PETOUSIS • HOTEL & SUITES
Comfortable Stay
JUNIOR SUITE
Junior Suite
Modern design style and exclusive services come together to create a cozy yet refined atmosphere, both for leisure and business explorers of Crete. The overall atmosphere is elegant and relaxing, with soft tones and first-class furniture.
BOOK NOW
SUITE
Suite
The simplicity combined with the special design makes this room the perfect choice either for families with two children or for friends. Wooden handmade wall with sliding door creates two autonomous spaces with its own TV each of them.
BOOK NOW
EXECUTIVE JUNIOR SUITE • SHARED POOL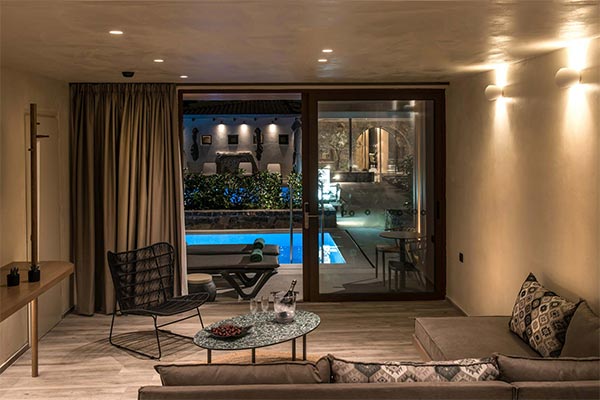 Executive Junior Suite • Shared Pool
The perfect accommodation choice for those seeking ultimate comfort and luxury during their holidays. The suite with sharing pool features a double bedroom and a separate living room with a sofa. The ultimate luxury and modern design combined with direct access to the pool.
BOOK NOW
SWIM UP SUITE • PRIVATE POOL
Swim Up Suite • Private Pool
For those who appreciate total luxury & privacy our suite is exactly what they are looking for, with two rooms-which communicate with each other with an intermediate internal door-one with a double bed and the second with two single beds and a separate living room with a sofa each.
BOOK NOW